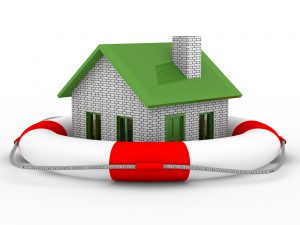 Buying second houses to then let them out again is becoming increasingly common as more and more people find that first-time-buying is extremely difficult in the current climate. This means that there are now far more landlords about than you might expect, and unfortunately, a lot of them are not completely clued up on what they need to do to ensure that they're doing things properly. One of the major things to think about is insurance – simply having the normal house insurance is not enough if you're not living in the property but renting it out to someone else. The following are some of the things you needs to check when looking at insurance:
Buildings Cover
You never know what disaster might strike your property, whether it's flooding or storm damage. For this reason, it is essential to have cover, just in case the building becomes uninhabitable. You as the landlord are responsible for making sure that the tenants have a place to live if there's a fire or something similar, and the only way of doing this is by having the correct level of insurance. You also don't want to have to pay out huge amounts in repairs if something does happen, as this can leave you financially ruined. Simple Landlord Insurance cover up to £2 million, which gives you an idea of how costly repairs can potentially be. Buildings cover is mandatory.
Contents Cover
This isn't always applicable to every rented property, but if you've got furnishings still in the building, then it's a very good idea to have them covered. Even with the perfect tenants, accidents can and do happen, and it's best to make sure you're not left out of pocket if things like furniture are damaged. There are also a variety of fixtures and fittings that have to be maintained if you have tenants – things like hot water are absolutely essential.
Rent Cover
For many landlords, the money coming in from their rentals is very important indeed. It may be a significant portion of income, which means that there could be financial hardship or repercussions if it's not paid, or paid very late. By getting a provider to insure you for this money, you'll always get the money even if you have a problem tenant. This is essential if for instance, you're using the rent to pay one of the mortgages on your property.